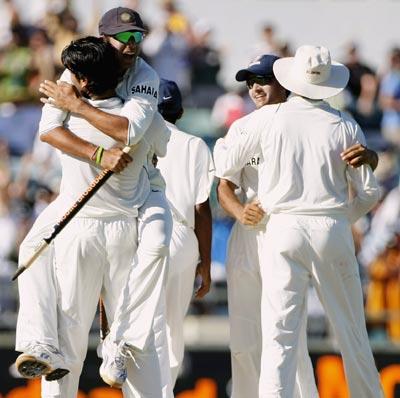 india Won the third test match against the Australia who were 2-0 lead in Border-Gavasker series.
I would rate this test match as the best of all times,the reason being that,it was one of that test match,that was a perfact blend of hardwork and team effort.
India captain Anil Kumble described the sensational victory in the third cricket Test against Australia as "one of the best" in his career.
"It was one of the best in my career. Nobody gave us any chance in Perth. But we batted brilliantly, Sachin (Tendulkar), Rahul (Dravid), (Virender) Sehwag, (VVS) Laxman... even at the lower order M S Dhoni and R P Singh," Kumble said after India won the match by 72 runs.
"We had tough times. After Sydney, it was important that we got together, back Harbhajan (Singh) and win this game.
"After Sydney there were two options. One was to go back home and the other was to show that we are capable of winning. I am glad the team has got together to prove that [beating Australia]," he said.