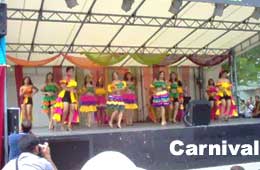 GoaÂ's 100 km coastline has some of the worldÂ's best and most beautiful beaches. The exuberant Goa Carnival is an annual feature here. Held in mid February, just before Lent, the week long event is a time for lively processions, floats, the strumming of guitars and graceful dances.
The Carnival is a wonderfully festive manifestation of the gregarious nature and spirit which characterises the Goan community. The typical guitar music with its enticing rhythm and harmony, heard all over Goa, is part of the rich musical heritage adopted from Portugal. It has further strengthened the distinctive identity of this region. The mingling of eastern and western cultures has created a truly rich synthesis.
Street Plays, songs, dances, and unrehearsed farces mocking the establishment are performed before an enthusiastic, responsive audience. Floats depicting popular lullabies and nursery rhymes make a whimsical and colorful sight on the streets. In the three days of celebrations, cultural functions and competitions abound, and are judged by specially selected people. King Momo distributes the prizes to the winners.
Although introduced by the Portuguese who ruled this territory for over 450 years, from 1510 to 1961, the three-day festival primarily celebrated by Christians, has absorbed Hindu tradition-bound revelry and western dance forms, and stimulated by the artistry of the Goan genius turned into a pageantry of singular effervescence.