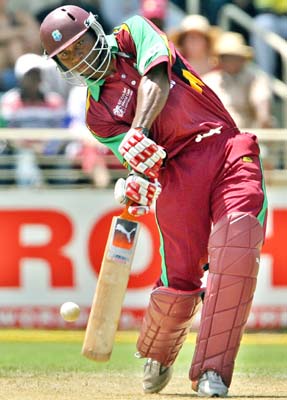 The West Indies beat Pakistan by 54 runs in the opening match of the 2007 World Cup in Jamaica on Tuesday. Dwayne Smith (3-36 and 32 runs) was named the man of the match.
Pakistan skipper Inzamam-ul-Haq won the first toss of World Cup 2007 - and promptly handed the gun over to Brian Lara and went here, you shoot first.
Marlon Samuels, coming in to the game with a century in the warm up against Kenya, seemed in increasingly good touch: a lovely straight six off Malik in the 42nd over brought him to 52 (59 balls); a sublime touch shot played fine to third man again off Hafeez in the 44th, all signaled a potential late charge - but then the batsman threw it away, getting the toe of the bat on an attempted forcing shot off Malik and holing out to Malik at long on (63.70; 181/5).next followed blistering performance of dwyne smith who contributed 32 in just 15 balls which had 2 massive sixes in it.Finally got up to the total of 241 in 50overs.
Pakistan got upto a poor start,39-3 in 10.3 overs.But contributions from Inzy,shoibh and yousuif dint not prove enough for pakistan to win this opener game against WI.