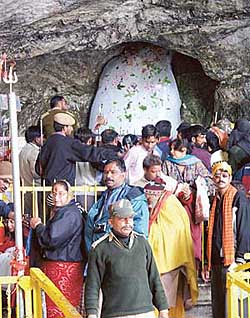 At aroung 12pm also..i set to watch tv..suddenly zee news flashed "breaking news"....well it said that Amarnath shivling had melted,as reported to them by thier correspondents.
This was confirmed by officials who visited the shrine along with with Home Minister Shivraj Patil on Sunday morning.
The shivling forms each year on its own from ice. The main reason for its melting is said to be too many pilgrims inside the cave.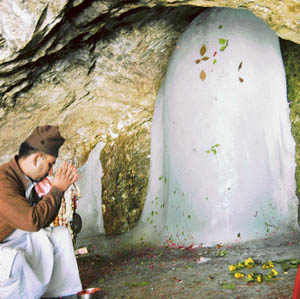 Over one lakh people visited the shrine before the yatra had been officially flagged off, many of them carrying cooking gas.
However, the Amarnath Shrine Board CEO Arun Kumar has said that the Ganesh and Parvati lingams on either side of the shivling are still there.
Ironically, this news has come in on the day that the pilgrimage began. Nearly 13000 pilgrims are taking part in the annual pilgrimage this year.